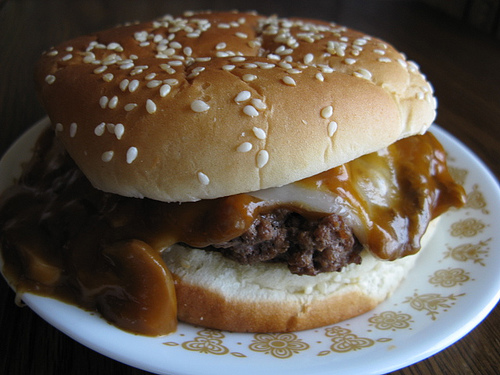 GARLIC MUSHROOM and SWISS BURGER
Big Boy Restaurant Copycat Recipe
Burgers:
1.5 lbs 10% lean ground sirloin
1.5 lbs 15% lean ground beef
Worcestershire sauce
liquid smoke
seasoned Salt
garlic pepper shopping list
1 tablespoon chopped garlic
1 packet dry Italian dressing mix
3 tablespoons grated parmesan
Toppings:
1 large white or yellow onion, sliced thin
1 tub fresh mushrooms, wiped clean and sliced
1 tablespoon butter or margarine
Worcestershire sauce
splash Jack Daniels
1/2 cup grated Swiss cheese
1/2 c grated Provolone cheese
garlic herb
Mayonnaise:
1/2 cup mayonnaise
1 large clove garlic
1/2 tablespoon lemon juice
zest from 1/2 lemon
1/2 teaspoon fresh rosemary
1/2 tablespoon fresh oregano
1 tablespoon fresh basil
BURGERS: Preheat grill to medium heat Mix all ingredients by hand in large mixing bowl Shape into 6 large patties (
leaving edges uneven helps burger to cook more evenly inside
) Grill 8 to 12 minutes per side to desired doneness Turning only once
TOPPING: Drizzle saute pan with evoo and add 1 tablespoon butter, Worcestershire sauce, and a splash of Jack Daniels. Saute onions and mushrooms. Fry slices of thick cut peppered bacon and crumble
Mix bacon with mushrooms and onions.
MAYONNAISE: Place the mayonnaise in a small food processor. Finely mince garlic, or press, and add to mayonnaise. Add the lemon zest then juice. Chop all herbs and add to mayo mixture.
PUTTING IT TOGETHER: Spread insides of buns with melted butter and place on grill for a couple of minutes, until lightly browned. Top each burger while on the grill with onion/mushroom/bacon mixture, then each type of cheese. Spread buns with mayo, top with burger and big slice of tomato